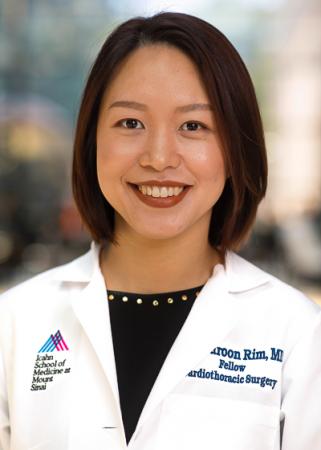 Chartaroon Rimsukcharoenchai, MD
2018-20 Stanley Schlessinger Fellow
Department of Cardiovascular Surgery
Icahn School of Medicine at Mount Sinai
Assistant Professor, Division of Cardiothoracic Surgery 
Chiang Mai University Hospital and School of Medicine in Chiang Mai, Thailand
Chartaroon Rimsukcharoenchai, MD, has completed the Stanley Schlessinger clinical fellowship in advanced mitral valve reconstruction techniques with Dr. Adams at Mount Sinai. She is an Attending Surgeon and Assistant Professor in the Division of Cardiothoracic Surgery at Chiang Mai University Hospital and School of Medicine in Chiang Mai, Thailand.
Dr. Rimsukcharoenchai also has clinical expertise in aortic root surgery, aortic valve repair, and Coronary Artery Bypass Grafting (CABG). In 2016, Dr. Rimsukcharoenchai was awarded an American Association for Thoracic Surgery Graham Foundation Fellowship and received an Edwards Lifesciences, Inc., Every Heartbeat Matters Valve Scholarship to travel to Germany to study alongside Dr. Hans-Joachim Schäfers, a world-renowned specialist in aortic valve reconstruction. The focus of this fellowship was aortic root surgery and aortic valve repair.
Dr. Rimsukcharoenchai graduated as a Doctor of Medicine with first class honor from Chiang Mai University. She did her training in general, cardiovascular and thoracic surgery at Chiang Mai University Hospital graduating with a diploma from the Thai Board of Surgery. In 2013, Dr. Rimsukcharoenchai received the first rank from the Thai Board of Cardiovascular Thoracic Surgery – recognizing her score as the top ranked in her country.
Page Created: Feb. 12, 2020 Last Updated: Jan. 04, 2023