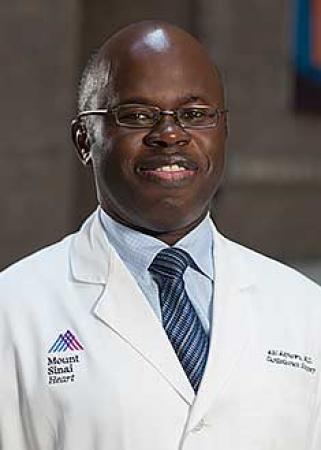 Anelechi Anyanwu, MD
Professor and Vice Chair
Department of Cardiovascular Surgery
Surgical Director of Heart Transplantation and 
Mechanical Circulatory Support
Icahn School of Medicine at Mount Sinai
The Mount Sinai Hospital
Download Curriculum Vitae [PDF]
Anelechi Anyanwu, MD, is Professor and Vice Chair of the Department of Cardiovascular Surgery at the Icahn School of Medicine at Mount Sinai. He is also the Surgical Director for Heart Transplantation and Mechanical Circulatory Support at the Mount Sinai Health System.
Dr. Anyanwu was trained intensively in the entire spectrum of techniques for mitral valve repair, and is one of only a handful of surgeons in the United States to received formal training in mitral valve repair to a proficient and advanced level. His main interests are in minimally invasive mitral valve repair and mitral valve repair for dilated cardiomyopathies. Apart from mitral repair, Dr. Anyanwu is an expert in complex re-operative valvular surgery, and heart failure surgery. Dr. Anyanwu has led the advanced heart failure program, introducing new mechanical devices for circulatory support and has also re-established the combined heart-lung transplant program.
He trained in Cardiothoracic Surgery at the Harefield Hospital, London, United Kingdom and affiliated hospitals in the University of London Network. He was trained by internationally renowned surgeons including Professor Sir Magdi Yacoub, Professor Gilles Dreyfus and Professor Tom Treasure. Under the tutelage of Professor Yacoub and Dr. Ashgar Khaghani, he was trained in Heart and Lung Transplantation. Harefield Hospital has performed more thoracic organ transplants than any other hospital in the world — Dr. Anyanwu is one of few surgeons world-wide who are trained in all aspects of thoracic transplantation including heart transplantation, heterotopic heart transplantation, heart-lung transplantation, domino heart transplantation and lung transplantation. At Harefield hospital he was also trained in various aspects of heart valve surgery including homograft implantation, another field pioneered by Professor Yacoub's team. His other areas of specialized training include multiple arterial revascularization using bilateral skeletonized internal mammary artery grafts — this operation is more durable than the standard coronary artery bypass surgery using a single mammary artery and leg veins for bypass. Using the technique of skeletonization, bilateral internal mammary artery grafting can be extended to most patients even diabetic and obese patients (who are generally excluded from multiple arterial grafts).
Dr. Anyanwu also has an interest in minimally invasive surgery and received training in this area in London. His interests include reducing invasiveness of surgery by minimizing incisions and tissue dissection, avoiding cardiopulmonary bypass or myocardial ischemia and reducing level of anesthesia and monitoring. He has performed open heart surgery on awake patients with use of epidural anesthesia, a technique that may hasten patient recovery and reduce morbidity in selected patients.
Following his training in England, Dr. Anyanwu joined the Department of Cardiovascular Surgery at The Mount Sinai Medical Center in 2004 as a Senior Clinical Fellow. His primary interests were Mitral Valve Repair, Complex Valvular surgery, Surgery for Heart Failure and Re-operative Cardiac Surgery.
Page Created: Jan. 17, 2018 Last Updated: Jan. 17, 2018