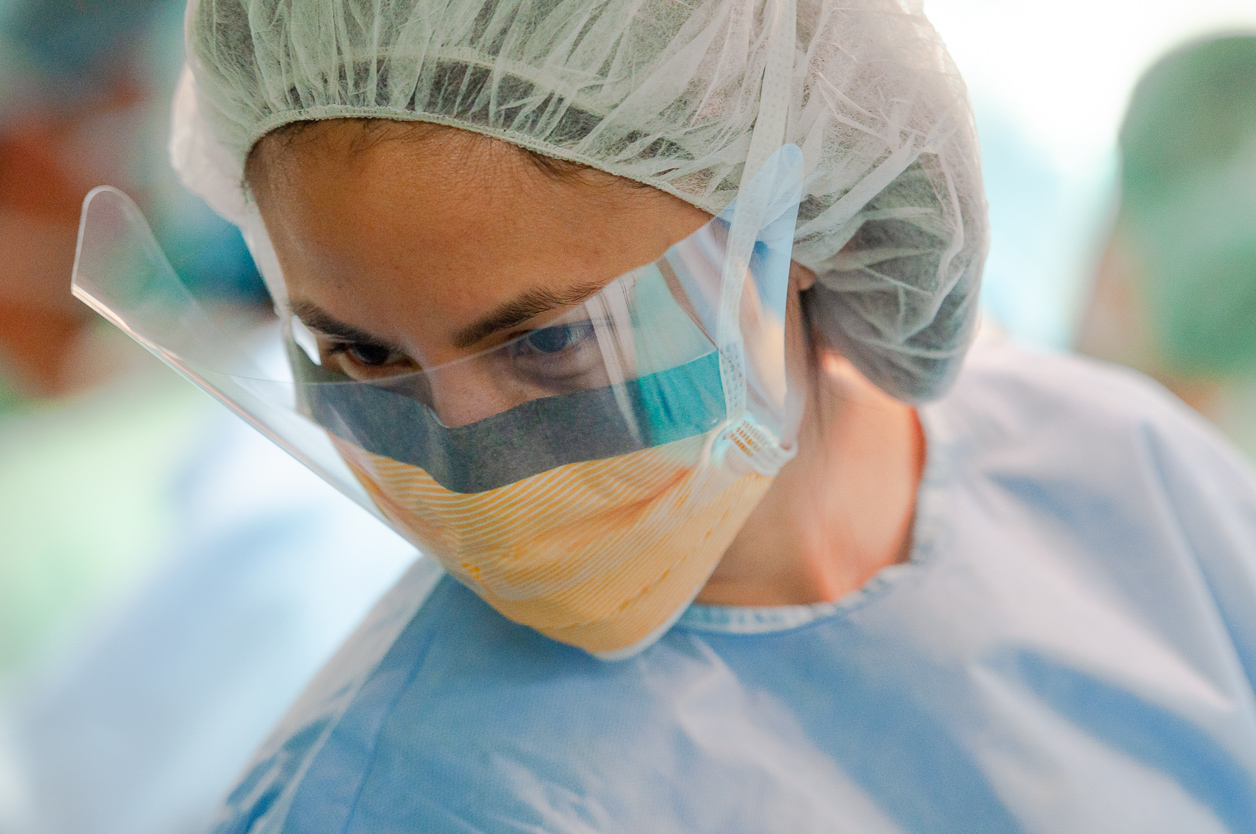 To watch members of a surgical team help each other don their sterile blue surgical gowns is to witness a form of medical ballet. Arms raised, one person pirouettes while the other secures the gown's drawstring around their waist. Not a word is exchanged, because everyone knows the other's next move—quiet teamwork that extends through surgery itself.
This is especially true in the case of Mary Joy Santillan, RN, BSN, MSHCDL, who for nearly 20 years has served as a senior operating room nurse to Mount Sinai's Cardiac Surgeon-in-Chief, Dr. David Adams. In this role, she not only prepares his trays of more than 100 specialized surgical instruments, but also passes each tool to him at just the right moment; swaps out scalpel blades as they dull; refills syringes of ice-water for cooling the heart; and tracks the number of sponges going in and coming out—all without a single verbal prompt.
"Sometimes he doesn't talk, he just gives you a look, or just opens his hand without even looking at all," said Santillan, whose colleagues call MJ. "That's why you have to know anatomy, and know what's coming next in the operation. You have to anticipate."
Typically, MJ stands at the foot of the operating table, diagonally across from Dr. Adams, adjacent to the instrument trays. Even if an operation lasts five or six hours, she never leaves her post, except when she turns to access extra supplies that Dr. Adams will need from an adjacent cart. Having performed an estimated 8,000 surgeries together, she and Dr. Adams are highly synchronized collaborators. "I can't have someone passing me sharps who doesn't know what they're doing," Dr. Adams said. "On mission trips, I won't operate without her."
MJ, a native of the Philippines—a country known for educating some of the world's best nurses—joined the Mount Sinai team in New York in 1999. Dr. Adams joined Mount Sinai in 2002, arriving with a reputation for excellence and high expectations of those around him. Offered the opportunity to assist him in the Operating Room, she embraced the challenge and responsibility. "He doesn't remember this, but in our first operation together, I actually stuck him with a needle," she said. "Fortunately, it was sterile."
In addition to her daily work at Mount Sinai in New York, MJ plays an especially critical role when Dr. Adams operates abroad. Knowing that every hospital has different equipment and resources, especially in developing nations, she always assembles and packs all the instruments and materials that Dr. Adams might end up needing—enough to fill an enormous black rolling suitcase that is nearly as big as she is.
"I'm an accountant by nature," she said, explaining her dislike for surprises, missteps or potential oversights. "A scrub nurse is a backstop; I keep an eye on everything, including the monitors, and I like to be as organized as possible."
MJ is also charitable, often donating her vacation time to join Dr. Adams on medical missions around the world. Together, they have operated on children in Santo Domingo, Chiang Mai and Shanghai, among other places.
"I don't have a million dollars to give," she said, "but I do have talent, and I can give that. I just want these kids to do well."
Page Created: Feb. 14, 2020 Last Updated: Jan. 04, 2023
Make a Gift
July 2019 Mitral Foundation Children's Valve Project Report