Find a Recognized Reference Center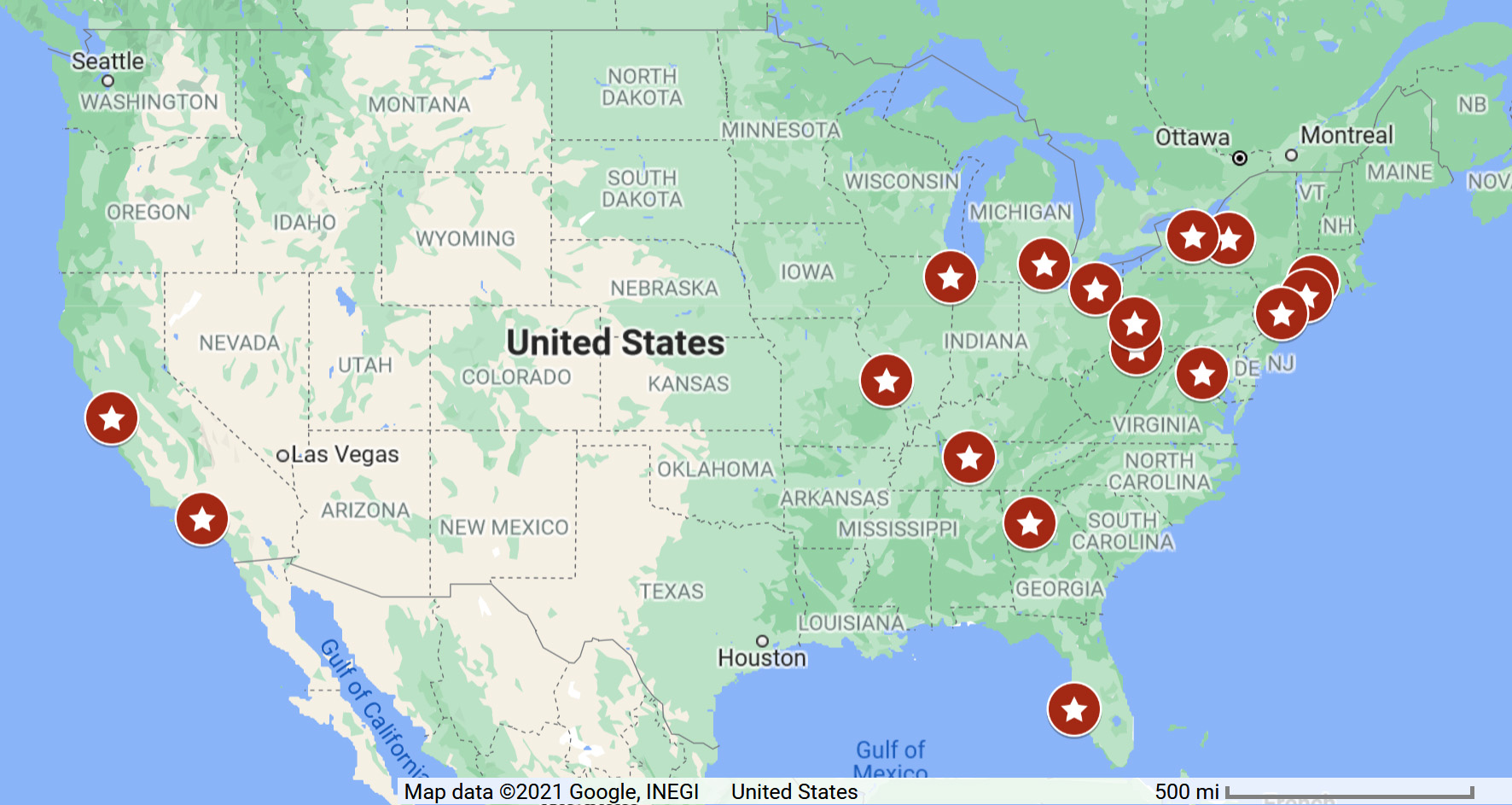 The Mitral Valve Repair Reference Center Award Program was created to provide patients and referring physicians with the resources needed to make a well-informed choice regarding the best heart team for mitral valve repair surgery. This award makes it easier for patients to identify the nation's best surgeons and hospitals for mitral valve repair surgery.
New Reference Centers are being recognized regularly. Please check back often to find a center near you.
Northeast
---
Allegheny General Hospital
Reference Surgeon: Walter E. McGregor, MD
Cardiovascular Institute
320 East North Ave.
Pittsburgh, PA 15212
Telephone: 412-359-8180
Contact: Katie Bruns, RN, Mitral Surgery Clinical Coordinator for Dr. Walt McGregor
Website: https://doctors.ahn.org/Walter-E-McGregor
Hartford Hospital
Reference Surgeon: Sabet Hashim, MD
85 Seymour Street, Suite 919
Hartford, CT 06106
Telephone: 860-524-2728
Email: Susan Collazo, Nurse Coordinator for Dr. Sabet Hashim, [email protected]
Mount Sinai Hospital
Reference Surgeon: David H. Adams, MD
Department of Cardiovascular Surgery
1190 Fifth Avenue, Box 1028
New York, NY 10029
Telephone: 866-MITRAL5 (648-7255)
Website: https://www.mitralvalverepair.org

NYU Langone Health

Reference Surgeon: Didier F. Loulmet, MD, and Eugene A. Grossi, MD

530 First Avenue, Suite 9V
New York, NY 10016

Telephone: 212-263-3940

Email: [email protected]

Website: https://nyulangone.org/locations/mitral-valve-repair-program
St. Joseph's Health Hospital
Reference Surgeons: Charles Lutz, MD, and Zhandong Zhou, MD
104 Union Avenue, Suite 1001
Syracuse, NY 13203
Telephone: 315-423-7192
Website: https://www.sjhsyr.org
University of Rochester Medical Center
Reference Surgeon: Peter Knight, MD
Strong Memorial Hospital
601 Elmwood Ave, Floor G
Rochester, NY 14642
Telephone: 585-275-6340

Yale New Haven Hospital

Reference Surgeon: Arnar Geirsson, MD

800 Howard Avenue
New Haven, CT 06510

Telephone: 203-785-5000

Email: [email protected]

Website: https://www.ynhh.org/services/heart-and-vascular/cardiac-surgery/mitral-valve-surgery
Midwest
---
Barnes-Jewish Hospital
Reference Surgeon: Marc Moon, MD
1 Barnes-Jewish Hospital Plaza
St. Louis, MO 63110
Telephone: 314-362-0993
Cleveland Clinic
Reference Surgeon: A. Marc Gillinov, MD
9500 Euclid Avenue
Cleveland, OH 44195
Telephone: 216-445-8851
Email: [email protected]
Website: https://my.clevelandclinic.org/staff/2350-a-marc-gillinov
Northwestern Memorial Hospital
Reference Surgeon: Patrick McCarthy, MD
675 N. Saint Clair Street
Nineteenth Floor, Suite 100
Chicago, IL 60611
Telephone: 312-NM-HEART (664- 3278)
University of Michigan
Reference Surgeons: Steven F. Bolling, MD, Gorav Ailawadi, MD, and Matthew A. Romano, MD
1500 E. Medical Center Drive
Ann Arbor, MI 48105
Telephone: 888-287-1082
Email: [email protected]
Website: https://www.umcvc.org/
South
---
Ascension Saint Thomas West
Reference Surgeon: Evilio Rodriguez, MD
4220 Harding Pike
Nashville, TN 37205
Telephone: 615-222-5592
Email: Lauren Cherry, Assistant to Dr. Evilio Rodriguez, [email protected]
Website: https://healthcare.ascension.org/specialty-care/cardiology/why-ascension/nashville-tn-structural-heart-and-valve-care
Emory Saint Joseph's Hospital
Reference Surgeons: Michael Halkos, MD, and Douglas Murphy, MD
5665 Peachtree Dunwoody Road
Atlanta, GA 30342
Telephone: 404-778-7200
Email: [email protected] and [email protected]
Website: https://www.emoryhealthcare.org/centers-programs/robotic-surgery/robotic-mitral-valve.html
Inova Heart and Vascular Institute
Reference Surgeon: Eric L. Sarin, MD
3300 Gallows Road, IHVI 3rd floor, Suite 3100
Falls Church,VA 22042
Telephone: 571-472-4600
Email: [email protected]
Website: https://www.inovaheart.org/

Sarasota Memorial Hospital

Reference Surgeon: Jonathan Hoffberger, DO

Sarasota Memorial Cardiac Surgery Program
1700 S Tamiami Trail
Sarasota, FL 34239

Telephone: 941-917-8791

Website: https://www.smhheart.com/
West Virginia University Hospital
Reference Surgeon: Vinay Badhwar, MD
Department of Cardiovascular and Thoracic Surgery
1 Medical Center Drive
Morgantown, WV 26506
Telephone: 855-WVU-CARE (988-2273)
Website: https://www.wvumedicine.org/heart
West
---
Stanford Hospital
Reference Surgeon: Joseph Woo, MD
300 Pasteur Drive
Stanford, CA 94305-5407
Telephone: 650-850-1985
Email: Roberto Vargas, Cardiovascular Health Manager of Patient Access, [email protected]
Website: http://ctsurgery.stanford.edu/
UCLA Medical Center
Reference Surgeon: Richard J. Shemin, MD
100 Medical Plaza, Suite 225
Los Angeles, California 90095
Telephone: 310-206-8232
Contact: Kris Kimoto, Administrative Specialist to Dr. Richard J. Shemin
Website: http://surgery.ucla.edu/division-cardiac
Page Created: Apr. 22, 2020 Last Updated: Oct. 27, 2021