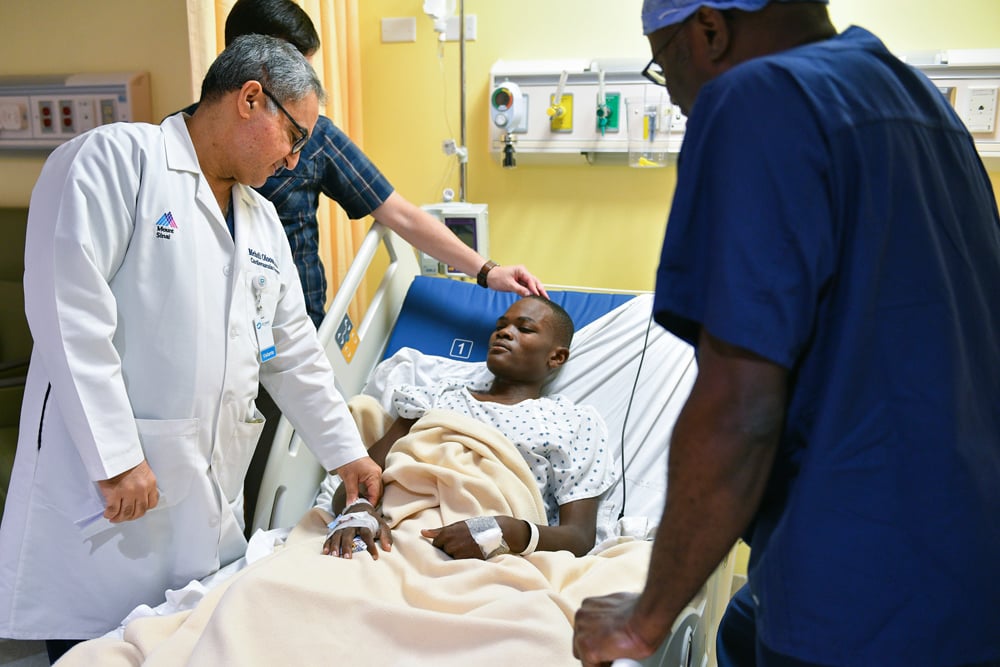 When most patients think about heart surgery, they focus on the operation itself. For Mehdi Oloomi, MD, an intensivist who oversees patient recovery in The Mount Sinai Hospital's Cardiac Surgery Intensive Care Unit, it's the hours immediately after surgery that claim his undivided attention. This focused, post-surgical care is no less important on medical missions abroad.
"It can be a very tenuous situation while the heart is recovering from surgery, so those first few hours are critical. I watch very closely for any bleeding or arrythmia, manage a patient's medicines, and monitor their overall heart function," Dr. Oloomi said.
His intense focus on patients after they emerge from surgery is why Dr. Oloomi thinks of the ICU as "I see you." And what he sees, he rarely forgets. "I can recall medical specifics from patients I treated years ago, and that experience can be very helpful when similar cases come up," he said. "My best teachers are always my patients."
Dr. Oloomi works to impress these lessons – and his "I see you" philosophy – on those with whom he works, whether that's at Mount Sinai or at a hospital such as CEDIMAT on a medical mission abroad.
After those initial hours of close observation and treatment, Dr. Oloomi turns his attention to a patient's recovery beyond the hospital, including nutrition, home care and physical therapy.
For Dr. Oloomi, medicine is something of a family calling; not only was his father a doctor, but so are three of his four siblings. He moved to the United States in 1992, following his graduation from medical school at the University of Tehran.
After acing the U.S. medical exam, he completed his internal medicine residency and a series of prestigious fellowships in pulmonary and critical care at Methodist Hospital-Cornell Medical Center, and later Memorial Sloan-Kettering Cancer Center. He was also honored as one of Sloan-Kettering's prestigious Heyward Critical Care Research Fellows.
It was at Methodist Hospital-Cornell Medical Center that Dr. Oloomi decided to become an intensivist. At the time, the field of post-surgical critical care was evolving into a specialty, as cardiac surgeons were beginning to operate on increasingly sick patients – people whose immediate post-surgical care would be vital to their full recovery. Within two years, he was the Medical Director of the Cardiac Intensive Care Unit at New York's Maimonides Medical Center. He joined the Mount Sinai team in 2012.
Dr. Oloomi credits Mount Sinai's success in complex heart valve repair to three things: medical expertise, leadership, and collaboration. "I've worked at several different hospitals and with many different surgeons," he said. "You have to gain their trust, and that trust needs to be reciprocal. And at Mount Sinai, it is."
"I love medicine," he added. "I love helping people. And when you see their smiling pictures afterward, that's joy."
Page Created: Jul. 23, 2020 Last Updated: Jan. 05, 2023