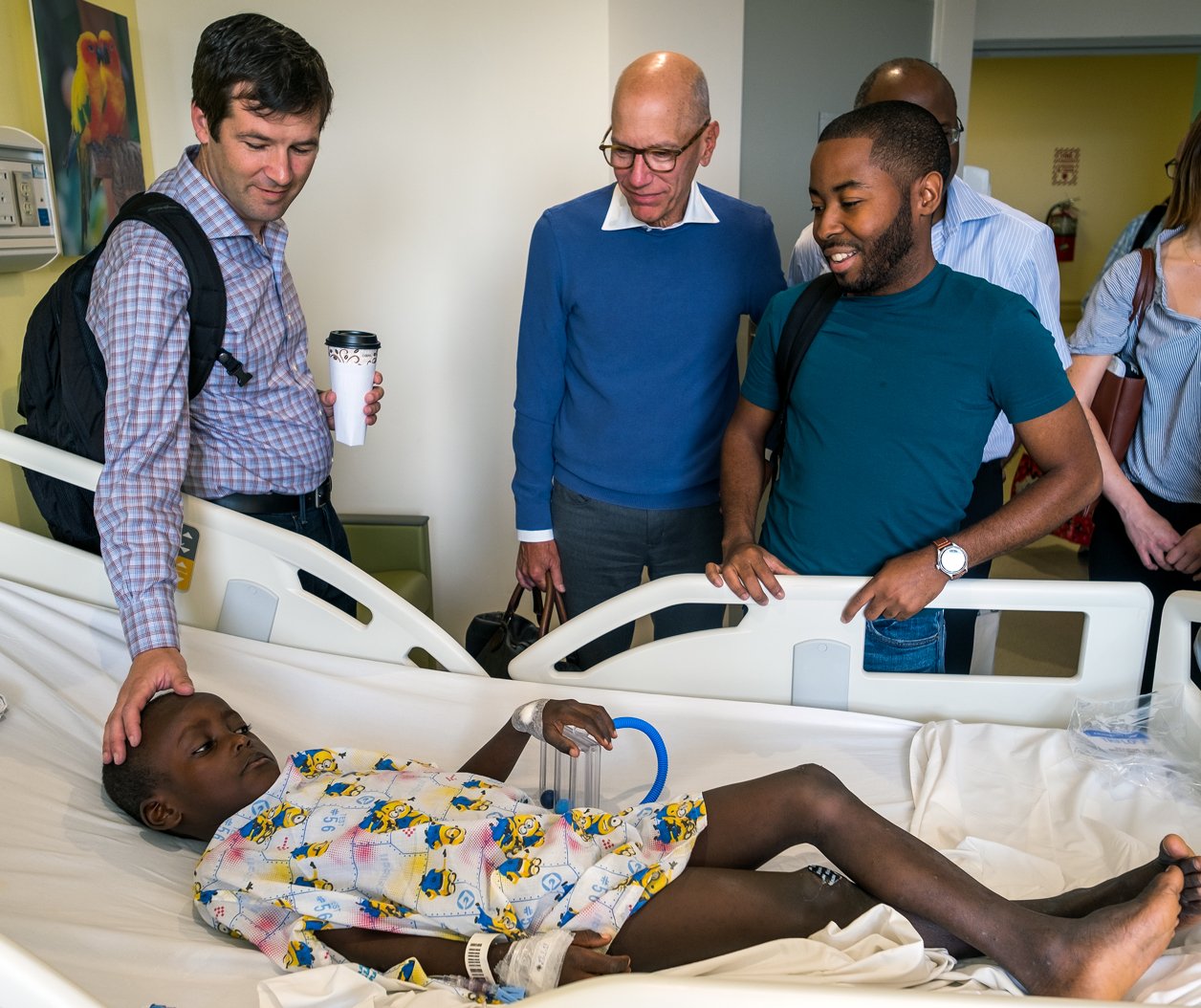 Meet Woodmylens
A surgeon's #11 blade is one of the sharpest on Earth, its cutting edge so extreme that a mere touch will draw blood. So as Dr. David Adams held his scalpel, about to begin a complex repair on a five-year-old boy's mitral valve, he was already envisioning the sequence of incisions and sutures that would be necessary. He had to consider the challenge not in three dimensions, but four: how did he want the valve's leaflets to move throughout the entire pumping cycle, and how should they perform over millions of heartbeats as the boy and his heart grew larger?
The boy's name was Woodmylens, and bad luck had been a constant throughout his short life. Born in a corrugated metal shack without electricity or indoor plumbing, high in the mountains of Haiti's interior, he was only a toddler when he contracted a case of strep throat, or perhaps scarlet fever; with no clinic in his isolated hamlet, he never received a diagnosis, let alone the penicillin necessary to ward off rheumatic heart disease.
Month by month, the disease had slowly degraded his heart's capacity to pump blood.  The chordae inside his heart—small tendons colloquially known as "heart strings"—began shortening and fusing. This entanglement in turn began restricting the proper movement of his mitral valve, allowing blood to regurgitate within the heart. Struggling to compensate, his heart pumped even harder, driving even more regurgitation—a degenerative cycle that left Woodmylens dizzy and out of breath.
Eventually, Woodmylen's mother, a street vendor named Nicole, had brought him to a local voodoo priest. The priest attributed the boy's malady to an evildoer's curse, but could not break the stubborn spell. Weeks later, down the mountain, doctors at a small hospital also failed to diagnose the boy's problem correctly, but did take his family's money for what turned out to be several months of in-patient treatment. When their cash ran out, Woodmylens was asked to leave.
Desperate for help, his parents next sought out treatment at St. Damien's, a hospital in Port-au-Prince serving indigent children. There, a visiting pediatric cardiologist determined that Woodmylens was suffering from rheumatic heart disease, and—with the help of the Haiti Cardiac Alliance (HCA), a nonprofit that helps poor Haitians seek cardiac care abroad—put him on a waiting list for surgery.
Once back home, they waited for what felt like an eternity. As one month became two, then four, and stretched toward six, Woodmylens' condition continued to deteriorate. For the HCA, matching patients with the right doctors around the world—sometimes even flying them to India for surgery—is always a challenge. Woodmylens' case was especially so, as very few surgeons in the world were qualified to repair his diseased mitral valve.
Finally, HCA was able to arrange the operation at CEDIMAT Hospital in Santo Domingo, just a day's bus ride from Port-au-Prince. It would be paid for by the Mitral Foundation, thanks to a generous grant from Every Heartbeat Matters—a philanthropic initiative led by Edwards Lifesciences Foundation to educate, screen, and treat 1.5 million underserved people fighting heart valve disease . Better yet, it would be performed by the world's top mitral surgeon—Dr. Adams—who would be flying into Santo Domingo on a medical mission, specifically to help indigent children like Woodmylens.
Excited to share the good news, HCA Program Manager Kessy Acceme called Woodmylens' parents, only to discover that their cell phone numbers were no longer valid. This was a serious and urgent problem, as the surgery had been scheduled for the following week. Without even a street address, which are rare in rural Haiti, Acceme had no way of contacting them. All he knew was the name of the district where they lived, which was home to thousands of people.
Under the circumstances, it would have been easy to give up on Woodmylens altogether, and move on to the next patient on HCA's long waiting list. Instead, Acceme got into his Jeep and started driving. If he couldn't find the boy, so be it. But he had to try.
Once in the area, he started showing a passport photo of Woodmylens to anybody who would pause to look, holding it out the window of his truck. "Do you know this boy?" he kept asking. Nobody did. Eventually, a young man on a mud-spattered motorcycle, learning of Acceme's mission, offered to help. "If he lives around here, we can find him," the man said.
For the next hour or so, as this Good Samaritan and Acceme drove higher into the mountains, nobody they encountered recognized Woodmylens' picture, or even his family name. Meanwhile, the roads were getting rougher. "I was starting to worry about the truck," Acceme said. Finally, a woman said she recognized the boy in the photo—she thought he lived in the next village. So off they drove, tires struggling for traction on the rutted track.
When they arrived, Acceme approached a house to knock on the door. As he did, he glanced over and saw a little boy, completely naked, playing in the dirt with a toy car made of twisted wire and old tin cans. It was Woodmylens.
"I was so happy," Acceme said. "I had actually found him!"
Minutes later, he was explaining the urgency of his visit with Woodmylens' parents: the need for pre-operative blood work in Port-au-Prince, how to secure a last-minute visa to enter the Dominican Republic, and other travel logistics.
Five days later, Woodmylens lay on a gurney at CEDIMAT, wide-eyed under the bright lights of the operating room, awaiting sedation. His father, Jean, cried as he watched his son being wheeled off for surgery.
"The doctors are very experienced," Acceme reassured him. "They will do everything they can to save his life."
Even for Dr. Adams, with more than 30 years of experience in mitral repair, the operation would demand all of his skills and concentration. Several fused chordae would need to be separated, while others would need rerouting and reattachment. Every move would have to be very precise.
As much as any other operation, open-heart surgery illustrates not just the complexity of modern medicine, but also the teamwork it requires. Surrounding the operating table are a dozen people, each with distinct yet critical roles—surgeons, cardiologists, anesthesiologists, nurses, physicians assistants, perfusionists and others. This makes good communication and collaboration imperative.
"It's really important to be efficient throughout the entire process, because the clock is always ticking," Dr. Adams said. "You have to have a game plan and make good decisions, quickly. You have to do everything once, correctly. You want to minimize time on the heart-lung machine, and under anesthesia."
Of course, everything is a tradeoff. Even though it is harder and takes longer, repairing a valve is almost always preferable to replacing it. First, this is because good mitral valve repairs should last a lifetime, while replacement valves eventually wear out. Second, mechanical replacement valves require patients to take blood thinners for the rest of their lives, medicine that is not just expensive but requires constant monitoring. Third, if a patient is young and female, blood-thinning medication precludes bearing children. Finally, the long-term outcomes of repairs are usually better than replacements.
Given all the advantages of repair, one of Dr. Adams' primary goals on medical missions is to teach talented local surgeons how to perform such procedures, empowering them to help even more patients on their own, with higher success rates at lower costs. This is especially important in regions like the Caribbean, where rheumatic fever is endemic.
CEDIMAT's chief pediatric surgeon, Dr. Juan Leon, is a congenital heart specialist. Since arriving at CEDIMAT in 2013, Dr. Leon has built a strong surgical team that now performs heart procedures on approximately 200 children every year but is still mastering the intricacies of mitral valve repair.
Dr. Leon noted that collaborating with Dr. Adams accelerates the learning process. "Working beside Dr. Adams, you get so much information that you can't get from books, or see in videos. He will explain every single step, point out the different formations, and how to read and successfully repair the valve," he said.
In Woodmylens' case, Dr. Adams untangled several chordae, and reinforced the valve's aperture with a small piece of tissue from elsewhere in the heart. Almost like an elastic cuff, this reinforcement would enable better closure, and grow with Woodmylens' heart as he matures.
Ninety minutes and several #11 blades later (they dull easily), Dr. Adams stepped away from the table, his work all but complete. "These operations are brutally difficult," Dr. Adams said. "While you have to go in with the right strategy, you also have to sort out what you encounter, because pre-op echocardiograms  rarely show the complete picture. The difference of just a millimeter or two in a cut or a suture can tip the balance between success and failure. In this case, things went perfectly."
Of course, the surgery was far from over—just the tricky part. When the surgical team restarted Woodmylens' heart a short while later, the echocardiogram revealed a successful repair. "It looks great," said Dr. Adams, as he reviewed the pulsing imagery with a group of CEDIMAT cardiologists gathered around the monitor.
Forty-eight hours after surgery, Woodmylens was sitting up in bed in CEDIMAT's cheerful, brightly decorated Pediatric Intensive Care Unit. While still sore from surgery, his heart was pumping normally; instead of having just months to live, he would probably live for decades. His dad, though drained, was profoundly relieved. "I thank God," he said.
Given his age, Woodmylens would probably never understand his remarkable good fortune in surviving this life-or-death saga—his parents' dogged persistence in seeking help, Acceme's determination to track him down in the mountains, the generosity of foreign donors, the support of CEDIMAT's talented medical team, and Dr. Adams' exceptional skills as a surgeon.
That lack of understanding was just as well—no child should ever have to think about such things. And Woodmylens was already looking forward to going home. "I'm going to play with my car," he said. For the first time in years, he too would soon be running smoothly, himself.
Woodmylens was one of seven children from the Dominican Republic and Haiti whose hearts Dr. Adams and the Mitral Foundation and CEDIMAT teams repaired on this mission.
Their surgeries were made possible with support from Every Heartbeat Matters—a philanthropic initiative led by Edwards Lifesciences Foundation to educate, screen, and treat 1.5 million underserved people fighting heart valve disease—and the David Ortiz Children's Fund—providing essential support for children in the Dominican Republic and in New England who cannot afford the critical cardiac services they need—as well as support from CEDIMAT, Haiti Cardiac Alliance, Mount Sinai Health System, and the Mitral Foundation.
Page Created: Feb. 20, 2020 Last Updated: Jan. 04, 2023