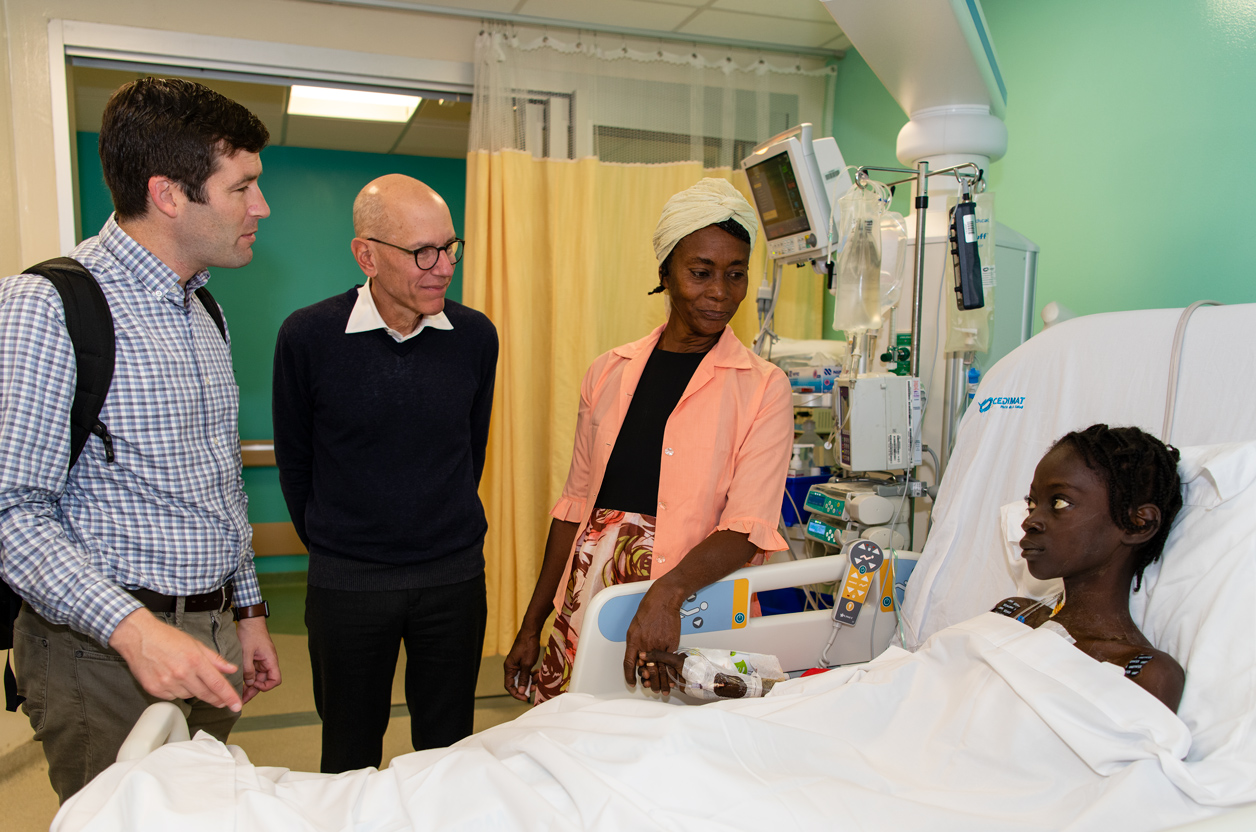 Meet Naika 
By the time 16-year-old Naika was carried into CEDIMAT Hospital in Santo Domingo, she weighed just 60 pounds and was struggling for every breath. Her rheumatic heart disease was so severe that doctors were uncertain she could even survive the surgery needed to repair her two malfunctioning valves. Unfortunately, doing nothing would mean certain death – probably within days.
"Life doesn't always present a good choice," said Dr. David Adams, President of the Mitral Foundation and Cardiac Surgeon-in-Chief at the Mount Sinai Health System in New York, who had flown in with a small team to operate on Naika and seven other indigent children from Haiti and the Dominican Republic. "You just have to focus on the best possible outcome, and go for it." 
For Naika, even just the opportunity for heart surgery had been highly unlikely; as a Haitian, her country lacked the medical expertise to deliver such care, even if her parents – subsistence farmers with 10 children – could have afforded the roughly $9,000 cost.
Owen Robinson, who runs the Haiti Cardiac Alliance – a nonprofit that works to match young Haitians suffering cardiac problems with appropriate medical care – had first learned of Naika a year earlier, when her mother brought her to a hospital in Port au Prince, Haiti. After a visiting cardiologist identified major problems, Naika joined Haiti Cardiac Alliance's waiting list for surgery abroad.
"The general state of health infrastructure in Haiti is poor," said Robinson. "It's never been at a sufficient level, especially in a specialty like cardiology. There's a lack of training, a lack of hospital beds, and supply chain problems in terms of getting medicine." Even getting to a doctor's appointment can be dangerous, due to frequent political protests and roadblocks.
Fortunately, with support from Every Heartbeat Matters – a philanthropic initiative led by Edwards Lifesciences Foundation to educate, screen and treat 1.5 million underserved people fighting heart valve disease – as well as support from Haiti Cardiac Alliance, CEDIMAT, the David Ortiz Children's Fund, Mount Sinai Health System, and the Mitral Foundation, Naika now had a fighting chance for survival.
Given the potential for last-minute medical and logistical complications, Naika's final trip to Santo Domingo had gone relatively smoothly: just eight hours on a crowded bus, with a few stops by border guards and customs officials, before arriving at CEDIMAT.
CEDIMAT's chief pediatric surgeon, Dr. Juan Leon, is a congenital heart specialist. For the past six years, he has worked to build a strong surgical team at the hospital, which now performs heart procedures on approximately 200 children every year. Mitral valve repair, however, is an especially challenging surgery in children, and Naika's case was an extreme example.
The tentative plan in this case was to replace Naika's mitral and tricuspid valves, which in her poor condition would be the quickest and safest operation because it would require her to spend less time on the heart-lung machine. In a best-case scenario, Dr. Adams and Dr. Leon would attempt to repair the valves, a longer and more challenging operation, but one that would offer her a better chance at a longer, healthier life.
Given the limitations of imaging technology, however, the surgical team wouldn't know which course to pursue until they opened her chest, examined the valves, and assessed her stability on the heart-lung machine. In either case, the fluidity of the situation, and the dangers of prolonged surgery, would require fast decision-making.
"In cases like this, efficiency is really important," Dr. Adams said. "You have to have a game plan up front. You have to make decisions quickly. You have to do everything once, correctly. And all of that requires a great deal of trust between everyone on the team."
As it turns out, Naika's valves were in better condition than expected, and Dr. Adams and Dr. Leon decided to attempt a repair. Nearly four hours later, Dr. Adams was still finishing the last of many small sutures in her heart, conscious of the ticking clock but focused on doing the job exactly right.
"There's a big difference between being a fast surgeon and an efficient surgeon," Dr. Adams said. "In a case like this, there is no room for error. If you have to go back and redo something, you're going to put the patient at much greater risk."
When Naika's surgery was finally complete, the surgical team turned its attention to the next patient, and then the next – all of whom presented their own unique and urgent challenges. Meanwhile, the Intensive Care Unit was updating them on Naika's condition.
"It was incredible how well she responded," Dr. Leon said. "Everyone was surprised, even our cardiology department. They couldn't believe that she was able to make it."
A day later, Naika was smiling. Two days after surgery, she was sitting up in bed, her heartbeat strong and healthy for the first time in years. Now, instead of having just days to live, she has a good chance at decades. It was a thrilling outcome for her and her family, as well as for the entire team that worked so hard to save her life.
"When something like this actually works, I don't so much celebrate as I exhale," said Robinson, from the Haiti Cardiac Alliance. "Because you have to take responsibility for the fact that someone in her condition might not come out of surgery alive. I'm so proud of the team, and happy for her family."
Naika's surgery was one of eight that Dr. Adams and Dr. Leon performed over three long days. All left the hospital within a few days, and returned home healthy.
Dr. Leon, who is working to build his team's capabilities in mitral valve repair, said that collaborating with Dr. Adams accelerates the learning process. "Working beside Dr. Adams, you get so much information that you can't get from books, or see in videos. He will explain every single step, point out the different formations, and how to read and successfully repair the valve," he said. "Because every patient is different, and every chart is different, it's not something you can learn in just a couple of surgeries."
Amanda Fowler is Executive Director for Global Corporate Giving at Edwards Lifesciences, and leads Every Heartbeat Matters. "We love what we do," Fowler said. "The best part is that we are truly making a difference in people's lives, and that the decisions we make in an office in Irvine, California, are directly impacting families around the world. It's personal for us. To see the faces of patients and get to know them, and really feel the impact of this work, is incredibly inspiring for all of us."
For Dr. Adams and Dr. Leon, this surgical mission was just the start of what they envision as an ongoing partnership. Already, thanks to ongoing support from donors, more children are in the queue for surgery. "We couldn't do this work without the generosity of Edwards Lifesciences Foundation and our other partners," said Dr. Adams. "It's urgent, it's important, and it makes a big difference."
The need for pediatric valve repair is especially great throughout the Caribbean, where untreated rheumatic fever – and the resulting rheumatic heart disease – is all too common.  "That's a population that's been neglected, and nobody in the Caribbean is doing valvular repair. I hope we can continue this," Dr. Leon said.
For patients like Naika, that will be a lifesaver.
View our full May 2019 Mitral Foundation Medical Mission Report
Support the efforts of the Mitral Foundation - Donate Today
Page Created: Aug. 22, 2019 Last Updated: Jan. 04, 2023
Make a Gift
May 2019 Mitral Foundation Children's Valve Project Report
Nearly half of patients with Rheumatic fever develop rheumatic heart disease (RHD.) The average age of patients diagnosed with RHD is 6-16 years old. The disease disproportionately affects women and girls.