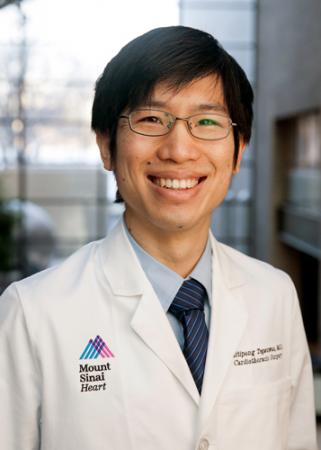 Thitipong Tepsuwan, MD
Stanley Schlessinger Fellow (2013-14)
Department of Cardiovascular Surgery
Icahn School of Medicine at Mount Sinai
Assistant Professor and Director of Valve Surgery
Department of Surgery
Chiang Mai University, Chiang Mai, Thailand
 
Thitipong Tepsuwan, MD, is an Assistant Professor and Director of Valve Surgery at Chiang Mai University Hospital in Chiang Mai, Thailand.
In May 2011, the Mitral Foundation completed its first sponsored mission to Chiang Mai. Assisted by Dr. Tepsuwan, Dr. David Adams operated on six patients with mitral valve disease. In 2013, Dr. Tepsuwan became the first recipient of the Stanley Schlesinger Scholarship and joined Dr. Adams at Mount Sinai in New York to begin his fellowship. After one year, he returned to Thailand to run Chiang Mai University Hospital's mitral valve repair program, and begin the work to establish the largest mitral valve repair reference center in Northern Thailand. In 2015, Dr. Adams returned to Chiang Mai to operate alongside Dr. Tepsuwan and train the next generation of Thai surgeons.  
After returning to Chiang Mai in 2014, it has been Dr. Tepsuwan's focus to continuously improve the quality of care for mitral valve patients in the northern part of Thailand and the underserved population from Thailand's border.
Dr. Tepsuwan completed his training as a cardiac surgeon in 2008 returned to serve his hometown of Chiang Mai, Thailand as an assistant professor and cardiac surgeon in Cardio-thoracic Unit, Department of Surgery, Faculty of Medicine, Chiang Mai University, Chiang Mai, Thailand. Dr. Tepsuwan's subspecialty is adult cardiac surgery and my special interest is valve reconstructive surgery, surgery for advanced heart failure, and endocarditis.
Page Created: Feb. 20, 2020 Last Updated: Feb. 20, 2020