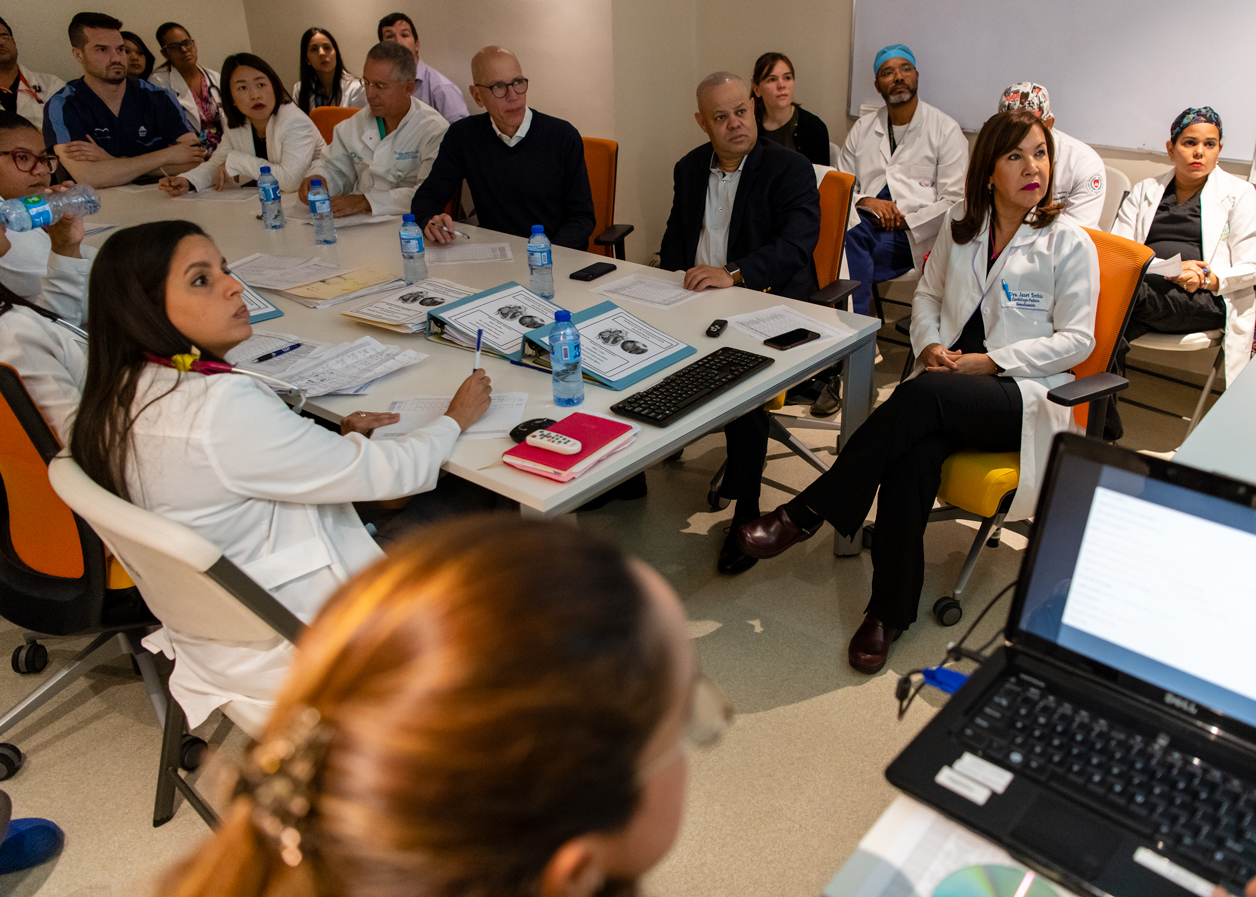 Fifteen years ago, Janet Toribio, MD, was frustrated. Working at a charitable foundation whose stated mission was to improve health care for poor Dominican children, she saw a lot of bureaucracy but too few patients—and even fewer doctors with the skills to save them.
"We were sending patients to the United States for surgery," Dr. Toribio said. "Kids died waiting as parents raised money to pay for operations, or their conditions became inoperable. I saw a lot of children with rheumatic fever die."
So in 2005, when she was invited to assume leadership of a new pediatric cardiology team at a yet-to-open hospital called CEDIMAT, she set out not just to build a best-in-class team, but also to completely transform pediatric cardiac care in the Dominican Republic.
"I knew we couldn't solve the problem of children dying by sending them abroad or just having foreign doctors come down here every three to six months; we needed good surgeons living and working here," she said. "We needed government support. We needed to change people's expectations."
And in the ensuing years, she did. Year by year, Dr. Toribio recruited a strong team of pediatric cardiologists and built a reputation for outspoken advocacy on behalf of young patients. In 2008, when the Dominican Ministry of Public Health and Social Assistance announced which medical treatments it would cover, the list omitted about 90 cardiac procedures for children. Outraged, Dr. Toribio reached out to a major newspaper to challenge the decision as arbitrary and unfair.
"I don't understand why children with heart disease are not covered," she said, especially given the high incidence of rheumatic fever across the country. Overnight, her comments became a national story, disrupting some of her colleagues' go-along, get-along approach.
"When I got to work the next morning, the director wasn't happy with me. But she also knew I was right, and told me it was now my responsibility to fix the problem."
And Dr. Toribio did, providing top health officials with evidence of the problem and data showing the efficacy of the omitted treatments. Eight months later, coverage was extended.
Dr. Toribio also worked hard to help recruit specialized talent that addressed gaps at the hospital, including Dr. Juan Leon, a talented pediatric heart surgeon who had previously spent a decade leading a strong pediatric program in Guatemala.
Since his arrival in 2014, Dr. Leon—who specializes in fixing congenital defects—has continued to recruit, train and lead a team that now performs more than 200 pediatric heart surgeries every year. In a country where an estimated 1200 children are born with congenital heart defects every year, his skills have made a big difference. "His arrival completely transformed the care we could provide," Dr. Toribio said.
More recently, Drs. Toribio and Leon have been collaborating closely with the Mount Sinai team, which periodically visits CEDIMAT to collaborate on pediatric mitral valve repairs and to develop the hospital's capabilities in this challenging specialty. The goal is to establish CEDIMAT as a self-sufficient regional center of expertise in mitral valve repair.
"Valve repair is ideal for us," Dr. Toribio said, "because valve replacement is just exchanging one problem for others"—a lifetime of blood—thinners, dietary and physical restrictions, and the likelihood of needing more surgery. For young women, she added, going on blood thinners precludes having children, due to the bleeding associated with childbirth. "That's why it's so marvelous for us to be able to repair a valve, instead of replacing it."
Looking back, the landscape of pediatric cardiology in the Dominican Republic has improved dramatically over the course of Dr. Toribio's career. Children with cardiac issues now have much better options for treatment, most of which can be provided by local doctors. And insurance or no insurance, nobody who needs care is now turned away.
"The panorama has changed completely," she said. And while Dr. Toribio might be too modest to admit it, that transformation would have been impossible without her leadership.
Page Created: Feb. 18, 2020 Last Updated: Aug. 28, 2020